UK farms rely on European fruit and vegetable pickers. But this summer theyre staying away, writes Guardian columnist John Harris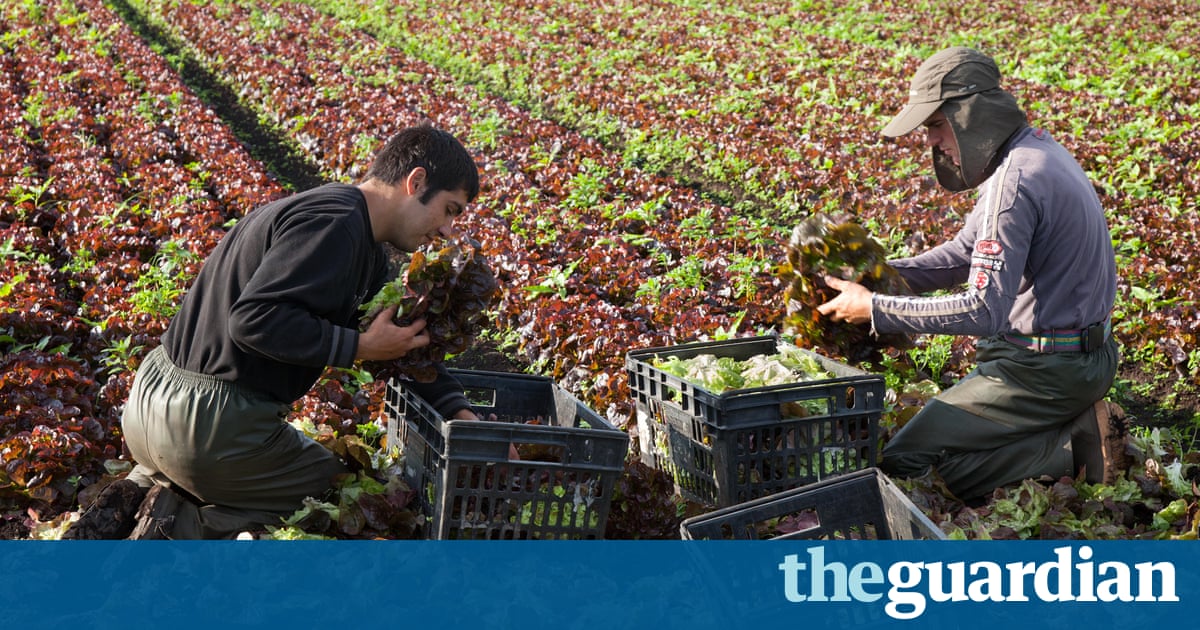 In the wake of an ocean of writing linking Brexit to the zeitgeisty Dunkirk spirit, heres one more martial metaphor. Self-evidently, this is the phoney war stage of the process. Negotiations have barely started; the prime minister is on holiday. Most importantly, the fragile tangle of threads that defines what passes for Britains economic wellbeing that mixture of affordable essentials, freely available credit and dependable house prices which ensures no one gets too uppity about stagnating wages just about remains intact. Meanwhile, ministers and Labour politicians talk about the fundamentals of leaving the European Union as if we can push Brussels in any direction we fancy and freely choose no end of measures to ease our passage out.
The recent noise about freedom of movement is a case in point. If the government has a coherent position, it seems to be that migration from the EU under current rules will end in 2019, but also carry on, with according to the home secretary, anyway the proviso that during an implementation phase of up to four years, people from the EU will simply have to add their names to a national register. Thus, a great human army which keeps so much of Britains economy ticking over will still be available, just as long as the right arrangements are put in place.
This is, of course, somewhat less than credible, as evidenced by a mounting crisis that has yet to turn critical but is bubbling away across the country. At the very least, we are fundamentally changing the basis on which people can live and work in the UK, swapping residence as a right for a much more uncertain system dependent on political caprice.
If you wanted to be more dramatic, you might say that the 2016 European referendum in effect put a huge neon sign over Britain, saying, Foreigners not welcome. And to make matters worse, the value of sterling is making coming here even less attractive.
The perception from overseas is we are xenophobic, were racist, and the pound has plummeted too. Weve gone with Brexit and that makes us look unfriendly. Those are the words of John Hardman, director of Hops Labour Solutions, which supplies about 12,000 workers a year to food-growers. He reckons that when it comes to food-picking jobs in agriculture which means everything from strawberries to brussels sprouts, there is currently a Brexit-related shortfall of about 20%, which chimes with recent surveys by the National Farmers Union.
What of the much-discussed prospect of food rotting in the fields? Were not far off. I suspect thatll definitely happen next year, he says. Hardman reckons that growers are beginning to question their investment plans for 2018, fearing crops going unpicked, and says that large-scale growers might soon consider moving into central and eastern Europe, at which point those much-fetishised union jacks will start to disappear from strawberry punnets.
According to a study by the GMB union sourced from official figures, nearly half the workers employed in the UKs fruit and vegetable processing and preserving sector are from countries within the EU. In meat processing, the figure is 44%. But among seasonal businesses that use fruit and veg pickers, the number usually rockets to more than 90%. Such figures denote thousands of people who are often poorly paid and prepared to do monotonous, frequently back-breaking work, thereby keeping a large swath of Britains food economy ticking over.
But not for much longer, perhaps. In the latest survey by the Association of Labour Providers, 30% of agencies who supply workers to British food and agriculture businesses say they dont expect to be able to source sufficient workers for the remainder of this summers peak picking period, and almost half say they will have problems in the busiest period before Christmas. One industry insider talks anxiously about a real and escalating issue, and echoes huge concerns about the lack of basic understanding among ministers. Others refer to factors beyond Brexit that are convincing would-be migrant workers to look elsewhere: the revived fortunes of the eurozone economies and an equally impressive picture in such eastern European countries as Poland and Hungary, for instance.
Read more: https://www.theguardian.com/commentisfree/2017/aug/05/brexit-uk-food-industry-eu-fruit-veg-pickers