If all company bosses were as articulate and provocative as Sergio Marchionne, business journalism would be a cinch. Jargon-laden and gnomic pronouncements aren't his style.
The Fiat Chrysler Automobiles NV CEO served up his latest zinger on last week's earnings call:
"From a valuation standpoint… I have never seen an industry which is as little loved as being an OEM today. For a period of time I thought that banking had reached the bottom but I think we have now surpassed them in terms of dislike".
Later he described carmakers as having become "almost radioactive", arguing it therefore made sense to try to insulate parts of the business from negative sentiment, for example via a possible spin-off of his company's components unit. 
Marchionne has a point. Investors are shunning auto stocks because of a cornucopia of worries related to technological disruption, emissions issues, an over-reliance on leasing and slowing U.S. sales. Last week, a possible German autos cartel joined that long list. But while the headlines are relentlessly awful, the operating performance of most carmakers has actually been pretty decent.
Some have been outstanding. Peugeot SA delivered a more than 7 percent operating margin in the first six months of 2017, when as recently as 2014 it was making heavy losses. General Motors Co–chastised by activist investor David Einhorn for its weedy valuation–plans to return $7 billion to shareholders this year.
Yet investors just aren't listening. Even if carmakers failed to grow earnings from here, most would generate their entire market capitalization in fewer than eight years. 1 In contrast, European Stoxx 600 companies would on average need double that time.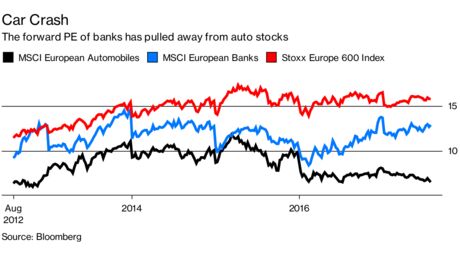 That valuation gap reflects in part a better performance from the maligned banks mentioned by Marchionne. Shares in Deutsche Bank AG and peers have re-rated in recent months because of an improving Euro zone economy, expectations for deregulation and measures taken to improve their capital base. Which begs the question: what could carmakers do to increase their market value?
Ever since Ferrari NV shares rocketed after Marchionne's creation of a separate listing for the supercar-maker in 2015, auto executives have been under pressure to find their own spin-off candidates. The positive market reaction to Delphi Automotive Plc's decision to separate its legacy powertrain activities from those geared towards electrification, connectivity and autonomous driving has added to the clamor.
And, at last, automakers are starting to stir. Daimler AG is mulling separate legal entities for its various automotive divisions (while denying this presaged a sale of its thriving truck business). Volkswagen AG is talking about scouring its asset portfolio for things that could be sold.
And why not? VW sells a thousand times as many cars a year as Ferrari, yet its market capitalization is less than four times higher. There are some pearls in VW's portfolio that might do better outside the group. Take its Porsche unit, whose 18 percent operating margin isn't far short of Ferrari. Even if the market valued Porsche's operating profit at only half Ferrari's heady levels, its standalone value would be similar to that of the entire VW Group, according to my rough calculation. 2
Similarly, Daimler's commercial vehicles unit (the world's largest) would almost certainly be worth more if listed separately. The unit's rival Volvo AB trades on almost 15 times estimated earnings, more than double Daimler's multiple.
It will take years for the auto industry to clear the noxious cloud left behind by dieselgate and convince us it still has a future when we're all being ferried around in driverless car pods. In the meantime, why not grant autonomy to some of the carmakers' prize assets? It would give them, and shareholders, collision protection from their parents' costly follies.
Read more: http://www.bloomberg.com/news/articles/2017-07-31/the-car-industry-goes-fully-radioactive