Just 17 countries recognise Taiwan after El Salvador ties foundered on financial aid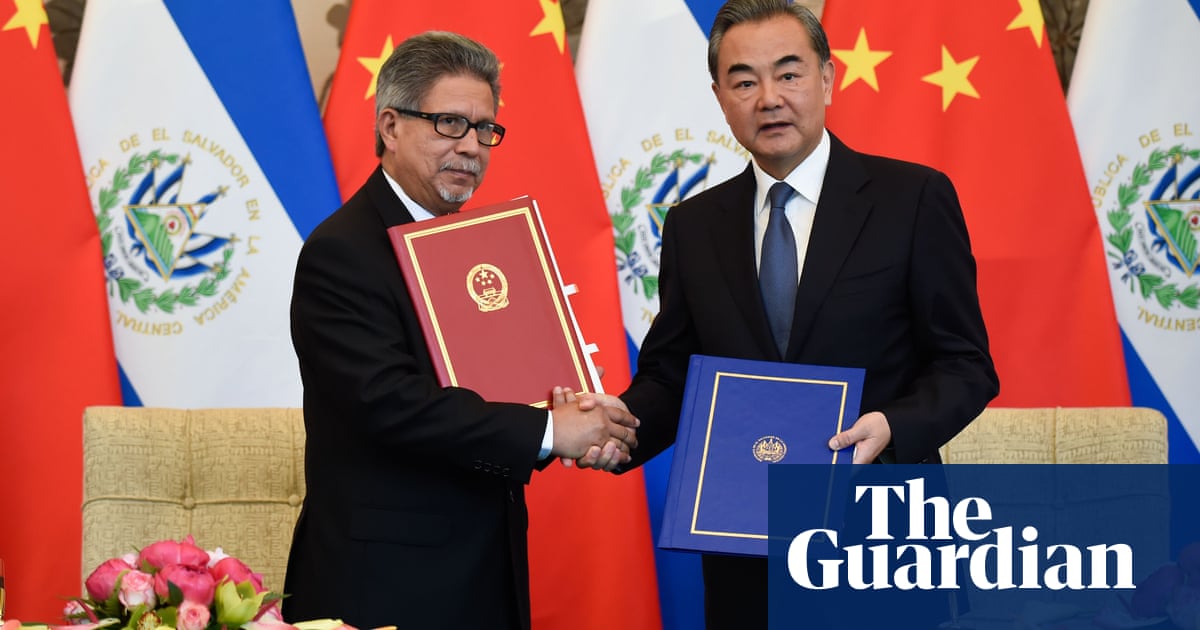 El Salvador and Taiwan have severed official ties, with the central American country switching its diplomatic allegiance to China.
Taiwans foreign minister, Joseph Wu, said on Monday that Taipei had terminated bilateral ties with El Salvador and was recalling all staff from the country.
According to Wu, El Salvador had been asking Taiwan to provide an astronomical sum in financial aid for a port project that Wu said would leave both countries in debt. Meanwhile, Taiwan had received reports that El Salvador was considering establishing ties with Beijing in exchange for investment and aid.
The Taiwanese government is fully against competing in dollar diplomacy with China, Wu said. Wu said Taiwanese officials had met with representatives of El Salvadors government during president Tsai Ing-wens visit to Latin America last week. Unfortunately, despite our tireless efforts we were still unable to save our diplomatic relationship with El Salvador, he said.
On Monday El Salvadors president Salvador Sanchez announced in a televised address that his country had established diplomatic ties with China and ended its relationship with Taiwan.
The latest diplomatic switch leaves Taiwan further isolated on the international stage as Beijing continues to put pressure on the self-governed island that operates under its own government, currency, and military. Beijing claims Taiwan is an inseparable part of China and will not maintain ties with any country that has formal diplomatic ties with Taiwan.
Relations between China and Taiwan have reached a low under Tsai, who belongs to the Democratic Progressive party, which advocates independence for the island. Since her election, Beijing has ramped up efforts to poach Taiwans allies. Now, just 17 countries recognise Taiwan, after Burkina Faso and the Dominican Republic cut ties and recognised Beijing instead earlier this year.
China has also pressured companies to take sides. This year Chinas aviation authority demanded foreign airlines, including American Airlines, Air Canada, Lufthansa, British Airways, and Qantas to change any descriptions of Taiwan as a non-Chinese territory.
Chinese and Taiwanese citizens have also entered the debate, calling for boycotts of the Taiwanese bakery 85 Degrees after it attempted to appease angry mainland customers when Tsai visited one of its branches.
Last week Tsai traveled to Latin America where she sought to shore up support among Taiwans remaining allies.
Taiwan would not bow to pressure. Pressure would only make us more determined and united. It would only boost our determination to go abroad, she said on her return to Taiwan on Monday.
Additional reporting by William Yang
Read more: https://www.theguardian.com/world/2018/aug/21/taiwan-further-isolated-as-el-salvador-switches-allegiance-to-china