Exclusive: Simon Kukes was in contact with senior Kremlin official in 2016 while donating to Trump-supporting committee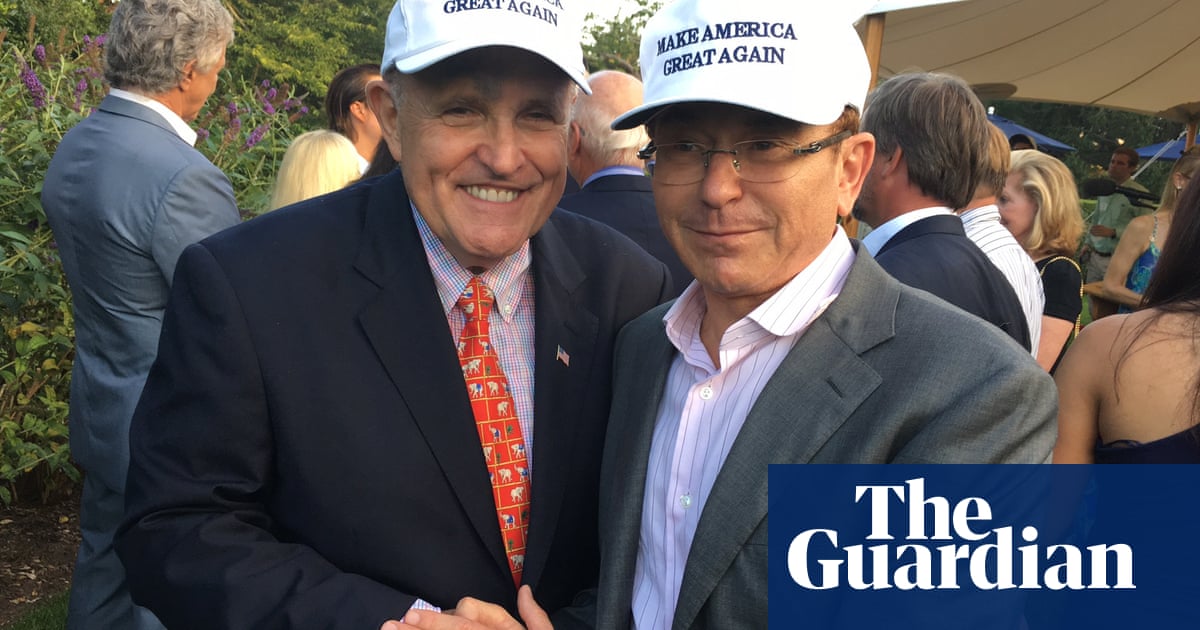 A Russian-American businessman who donated a substantial sum to Donald Trumps 2016 presidential election effort boasted to a senior figure in Moscow that he was actively involved in the Republican candidates campaign, the Guardian can reveal.
Simon Kukes said he was helping Trump with strategy development and shared photos of his 29-year-old Russian girlfriend posing with the future president.
Kukes made the claims to Vyacheslav Pavlovsky, a career Kremlin official and former ambassador to Norway. Pavlovsky is currently vice-president of Russian Railways.
The disclosure raises questions about the role played by Kukes in the run-up to the election and what information, if anything, was being relayed by him to his associates in Russia.
Kukess donations began two weeks after the meeting at Trump Tower in June 2016, when Donald Trump Jr, Paul Manafort, and Jared Kushner discussed dirt on Hillary Clinton with a Russian lawyer.
In total Kukes gave $273,000 (207,000) to Trump Victory a fundraising committee that distributes donations between the candidate, the Republican National Committee (RNC) and state Republican parties. He had no previous history of giving money to political causes.
During this period he was in regular contact with Pavlovsky. In one email written in July 2016, Kukes wrote in Russian: I am actively involved in Trumps election campaign, and am part of the group on strategy development.
Kukes said that he would be in Switzerland from 20 July until 2 August, and asked Pavlovsky if he wanted to meet there. Kukes emailed again a week later, saying he would like to introduce Pavlovsky to a close friend, a Moscow oil executive, who has just flown in.
They were discussing very interesting projects for Russia and the US, he wrote, adding: I hope one of them will materialise.
Pavlovsky had just left Russias foreign ministry and had begun a job as vice-president of Russian Railways, a powerful state entity previously headed by Vladimir Yakunin, one of Vladimir Putins close KGB allies. The ex-ambassador said he could not meet because of work commitments. He signed off: Hugs.
The following month Kukes attended a Trump fundraising dinner in New York thrown by Woody Johnson, a prominent Republican supporter who is now the US ambassador in London. The 13 August event took place at Johnsons home in East Hampton. Tickets were $25,000.
Kukes sent a photo of himself from the event to Pavlovsky. Next to Kukes is the former New York mayor Rudy Giuliani. Both were wearing Make America Great Again caps. Another guest was Anthony Scaramucci, the future White House communications director.
I was at a dinner with Donald Trump. I am in New York now. I think his chances are very good, Kukes wrote to his friend in Moscow, adding: In the photo is Americas most respected former mayor. Giuliani is currently Trumps personal lawyer.
Kukes was born in Moscow in 1946. He left the USSR in 1977, while in his twenties. Kukes lived in Texas, Oklahoma and Illinois, became a US citizen in 1982, which allows him to make political donations, and worked for Phillips Petroleum and Amoco.
In 1996 he returned to Moscow. He spent the next two decades there and held a series of executive jobs in the Russian oil industry. In 2011 he told a New York court he was not domiciled in the US and lived in Russia. By 2016 he had based himself in America again, moving from Switzerland.
Kukess communications in summer 2016 are likely to be of interest to Robert Mueller, the special counsel investigating possible collusion between the Trump campaign and Russia.
They are revealed in a joint investigation by the Guardian, NBC News, and the London-based investigative unit Dossier. Dossier is funded by Mikhail Khodorkovsky, a Kremlin critic and former head of the oil firm Yukos.
Kukes declined requests for interview. He described himself as a private individual and said that he donated to Trump in order to make contacts in Houston. He regrets the move because of press attention, he said.
Mueller is reportedly looking at Americans with deep ties to Moscow who gave money to Republican political causes. They include Kukes, Len Blavatnik, and Andrew Intrater. Collectively they contributed nearly $2m to political funds supportive of Trump. All are US citizens. Intrater is a cousin of the oligarch Viktor Vekselberg and was born in the US. He oversees the US affiliate of Vekselbergs Renova group.
Federal agents working for Mueller recently questioned Vekselberg when he arrived in the US on a private plane. Vekselberg is one of several oligarchs sanctioned in April for playing a key role in advancing Russias malign activities.
Blavatnik gave $133,600 to the RNC in 2016 and another $1m to Trumps inauguration through his company Access Industries. He was born in Soviet Ukraine and has US and UK citizenship.
Kukes worked in Moscow with Blavatnik, Vekselberg and the tycoons Mikhail Fridman and German Khan between 1998-2003 when Kukes was president of the Russian oil company TNK, and they sat on the board.
On September 28 2016, Kukes gave $99,000 to Trump Victory, according to federal filings. The next day Kukes attended a private Jewish fundraising event for Trump held at a Manhattan hotel.
Kukes went to the event with his future wife, Svetlana Stanovkina, a Russian national. Stanovkina posed for a photo with Trump and his running mate, Mike Pence. The candidates gave the thumbs-up, standing between stars and stripes flags.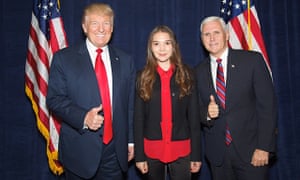 Read more: https://www.theguardian.com/us-news/2018/sep/28/russian-us-tycoon-boasted-of-active-involvement-in-trump-election-campaign-simon-kukes