More than the White House was at stake when Donald Trump Jr. met at Trump Tower last summer with a top lawyer for Moscow's regional government.
The attorney, Natalia Veselnitskaya, had a client with another pressing matter — a U.S. criminal investigation into possible Russian money laundering.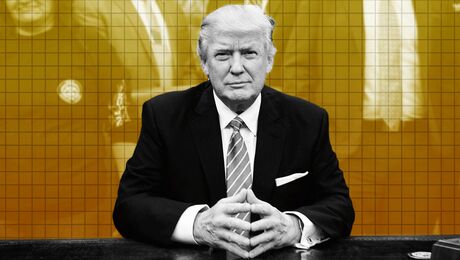 "The origins of the meeting and what happened make a lot more sense now," said Seva Gunitsky, a professor of political science at the University of Toronto and an authority on Russian foreign policy. For the Russian side, he said, the meeting was likely less about the presidential campaign than it was about advancing core national financial interests. "If you're looking for potential evidence for a quid pro quo, this would be exactly that type of thing."
Veselnitskaya attested in court documents that the U.S. told Russia its probe was criminal, which she called "a false representation." Reached Thursday in Moscow, Veselnitskaya said she wasn't aware of the continuing U.S. criminal probe and that it wasn't discussed at the Trump Tower meeting. She reiterated that the focus of the meeting was Russia's ban on adoptions by Americans and U.S. sanctions.
"There was no discussion of a deal — you repeal one and then we in turn repeal the other," Veselnitskaya said. "I categorically wasn't authorized to discuss something like that."
Representatives for the Southern District of New York, Kushner and Manafort declined to comment. A lawyer for Trump Jr. didn't respond to requests for comment.
Bitter Battle
The adoption discussion is one scene in a decade-long drama that features Veselnitskaya in multiple roles. The saga, set off by a massive alleged theft that victimized an American-led investment fund, Hermitage Capital, also includes a dead lawyer, a bitter diplomatic battle between Moscow and Washington, and the previously undisclosed criminal probe to trace the funds.
Hermitage's offices were raided in 2007 by Russian government officials. Then, according to U.S. prosecutors and Hermitage founder William Browder, criminals used companies in Hermitage's portfolio to milk $230 million in fraudulent tax refunds from the Russian Treasury. Launderers working in league with the scam's perpetrators spirited the money out of Russia through an elaborate network of shell companies and bank accounts, they allege. 
A lawyer and auditor working for Browder, Sergei Magnitsky, was arrested and died in a Moscow jail in 2009. U.S. lawmakers imposed sanctions on Russian officials, judges and investigators who they believed were involved. The U.S. Magnitsky Act infuriated Russian President Vladimir Putin, who responded by halting U.S. adoptions of Russian orphans.
Veselnitskaya emerged as one of Russia's international opponents to the sanctions. Around the time of the Trump Tower meeting, she appeared in Washington, D.C., for the screening of "The Magnitsky Act — Behind the Scenes," which aims to erode the foundations of the U.S. sanctions case, accusing Browder of perpetrating the fraud and attempting to cast doubt on whether Magnitsky was tortured to death.
According to Browder, Veselnitskaya's focus on broader Russian interests was clear when she showed up for the Trump Tower meeting. "This is about sanctions," he said in an interview. "Adoption is just a code word for sanctions."
Prevezon Case
At the time, Veselnitskaya was also defending a Russian named Denis Katsyv, whose company, Prevezon Holdings Ltd., was accused by the U.S. government of receiving some of the proceeds of the Hermitage tax-refund scam. Her work for Prevezon's Katsyv is her only case outside of Russia, she has said.
Veselnitskaya didn't provide additional comment on Katsyv's behalf. Faith Gay, a U.S. lawyer for Prevezon, declined to comment.
Veselnitskaya, a Moscow-trained lawyer who has said in U.S. court filings she doesn't speak English, was accompanied to the Trump Tower by Rinat Akhmetshin, who had done public-relations work on behalf of Prevezon. Akhmetshin declined to comment.
Federal prosecutors in New York launched their investigation into the Prevezon case in early 2013, sending evidence requests to countries including Switzerland, Latvia and Cyprus, according to court records filed this spring as part of an evidentiary dispute in the civil lawsuit.
Prosecutors also issued grand jury subpoenas to banks including Citigroup, Deutsche Bank AG, UBS AG and TD Bank. Several banks produced records in response, according to court records filed by Prevezon's lawyer.
Representatives for Deutsche Bank, Citigroup and TD bank declined to comment. A UBS spokesman didn't respond to a request for comment.
Request to Russia
The criminal investigation has focused on what prosecutors called an elaborate money-laundering network used to move proceeds of the Hermitage scheme out of Russia and around the world.
"The bulk of the government's investigation has been directed at ascertaining where the proceeds of the fraud went, and who was involved in laundering them," Assistant U.S. Attorney Paul Monteleoni wrote in a legal brief in April.
Prosecutors said they sought the assistance of the Russian government in the case. The Russians refused to honor an information request, claiming they could not find evidence of the transactions, Monteleoni said. Instead, the government responded with several irrelevant documents and a letter from a Russian prosecutor attesting to the innocence of Russian government officials as well as Prevezon's owner, according to the court records.
Russia's response to the request said that the alleged offenses never occurred and that the complaint was an attempt by Browder to "discredit the law enforcement and judicial authorities of Russia," court records show.
U.S. prosecutors said they ultimately received relevant Russian records through other means. A Russian criminal investigator had gathered bank statements proving the existence of the laundering transactions, and Russian financial analysts confirmed their existence, Monteleoni wrote.
"It is hard to understand how the Russian prosecutor could not have been familiar with these facts," Monteleoni wrote in a court filing.
Spokespeople for Russia's Prosecutor General didn't immediately respond to requests for comment. Veselnitskaya, in a 2016 court filing, said the U.S. had declined the Russian Prosecutor General's offer to cooperate.
Last-Hour Settlement
In September 2013, then-Manhattan U.S. Attorney Preet Bharara filed the civil forfeiture lawsuit against Prevezon, seeking to seize New York real estate that he said Katsyv and two other owners of Prevezon bought with a chunk of tax refunds.
In a footnote to the civil case, the Justice Department complained that Veselnitskaya charged the government for a two-night stay, at $995 per night, at the Plaza Hotel even though she wasn't deposed and didn't attend the depositions in person. (The government asked the judge not to accept more such expenses.)
After years of court wrangling over the civil case, the Prevezon matter was set for trial in May 2017, promising a public view of prosecutors' full allegations about the Russian money flows. But just days before opening arguments, the U.S. announced it had settled the case for $5.9 million. 
The prosecutors called it a victory. So did Prevezon lawyer Gay, who called the U.S. settlement "almost an apology by the government."
Several Democratic lawmakers looked at the Prevezon settlement in a new light two months later, when news emerged about the Veselnitskaya meeting in Trump Tower. In a letter, they asked whether the Russian lawyer, or members of the Trump team, may have put pressure on prosecutors in the matter. They also pointed out that Bharara, whose office opened the case, had been summarily fired by Trump as the case neared trial. 
What wasn't publicly known at the time was that federal prosecutors in Bharara's old office were continuing a criminal probe into the laundering allegations.
Read more: http://www.bloomberg.com/news/articles/2017-09-15/russia-laundering-probe-puts-trump-tower-meeting-in-new-light