Worried earnings can't get any better than they are now? Investors seem to be, with another impressive reporting season about to end and not much to show for it in stocks.
But one Wall Street constituency that usually shares the skepticism is singing a different tune. It's analysts, who instead of slashing estimates — as they usually are during August's dog days — are raising them briskly.
Seven months into 2018, forecasts for S&P 500 earnings next year have jumped 7.6 percent, the biggest increase since data going back to 2012 and only the second time they've gone up over that stretch of the calendar.
So while the never-ending din of trade wars shows no sign of abating, neither does the optimism on profits.
"We are in a peak earnings environment," said Michael O'Rourke, chief market strategist at JonesTrading. "You just don't know where the peak is."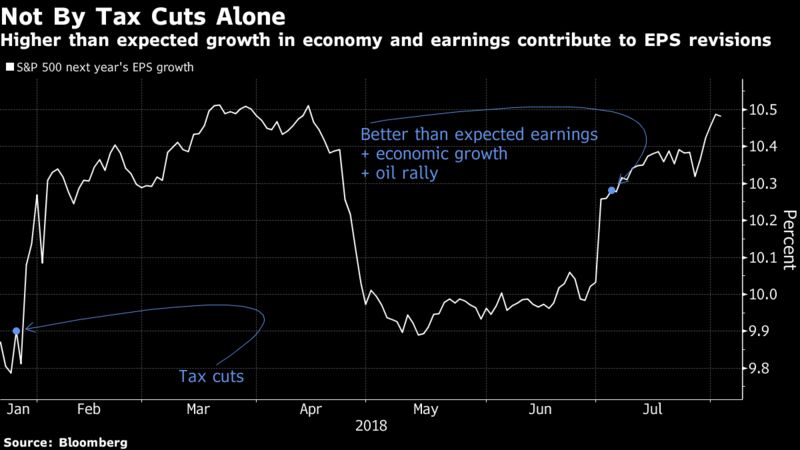 Giving an estimate on next year's growth is an assignment for the brave of heart. For now, it's resolving in the bulls' favor. Amid a rising wall of worry, from trade to interest rates to the dollar, analysts have pushed the average estimate for S&P 500 earnings to $176.80 a share, from $163.80 on Jan. 5.
To be sure, analysts are far from infallible. Just ask anyone who lived through the last bear market. With stocks up for five straight years, Wall Street firms were projecting a solid increase in S&P 500 profits for 2008. They were off by 41 percentage points.
Evidence the they're struggling now was visible in the last few weeks. While it's easy to credit companies for delivering better-than-expected results, analysts could also be blamed for botching the estimates. One interpretation of the 80 percent beat rate is that Wall Street firms finding it hard to model things like President Donald Trump's tax breaks.
"This is a sign that the strong economic environment and accelerating inflation trends has reduced the earnings visibility for company management teams and covering analysts," Goldman Sachs strategists led by John Marshall and Katherine Fogertey wrote in a note to clients. "This increases the instance of surprises and drives larger stock moves."
A concern for bulls is that this year's undershoot becomes next year's unfounded optimism. Baked into 2019's forecast for 11.4 percent year-over-year earnings growth is the notion that the economy will keep growing and companies won't endure any significant losses from a tax spat with China.
For now, the handicappers are undaunted. Fundstrat Global Advisors boosted its 2019 EPS estimates last month, and its head of research, Thomas Lee, predicts S&P 500 earnings will get as high as $239 a share in the next few years. That's 50 percent above Wall Street's consensus for profit this year.
"We have solid job creation, a strong economy, two great earnings seasons, that's a heck of a great environment," said Jim Paulsen, chief investment strategist for Leuthold Weeden Capital Management LLC. "It's hard to come out of this with a negative attitude. But we have to keep in mind that there are a lot of looming risks."
Read more: https://www.bloomberg.com/news/articles/2018-08-03/peak-earnings-investors-may-think-so-analysts-really-don-t