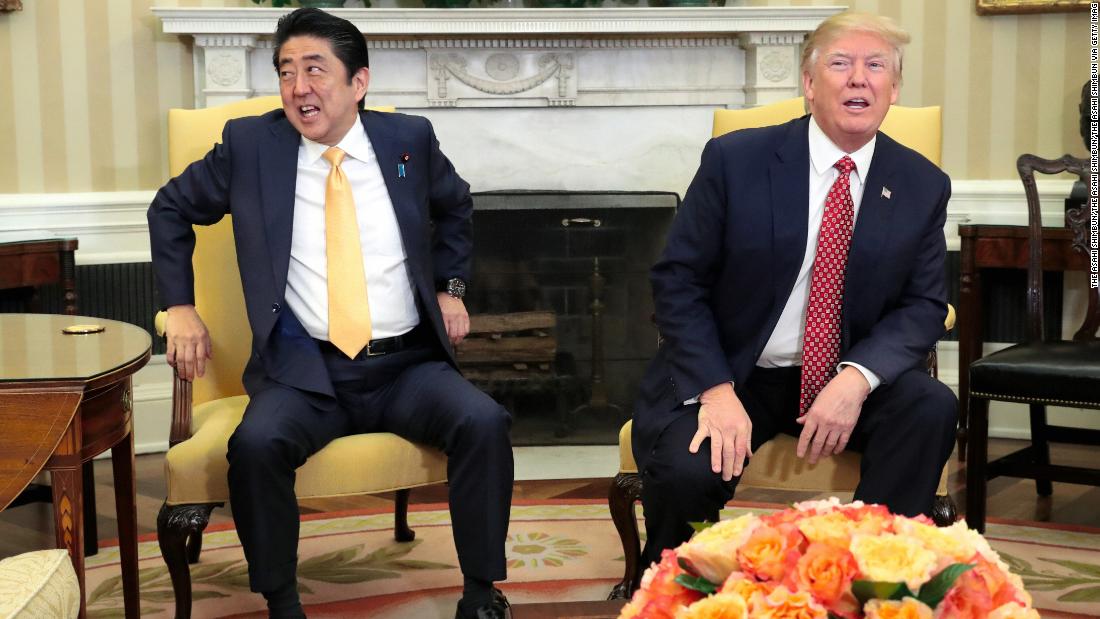 (CNN)This week's summit at Mar-a-Lago between President Donald Trump and Japanese Prime Minister Shinzo Abe should be routine diplomacy allowing for two allies to catch up and reaffirm strategies. In reality, it represents a crucial moment: Trump and Abe need the summit to go well.
One is North Korea. Coming just days before the
summit
between North and South Korea, and before Trump's own as-yet-unscheduled
meeting with Kim Jong Un
, the Trump-Abe summit is an opportunity to reaffirm a unified stance on keeping the
"maximum pressure" sanctions
intended to force Pyongyang to denuclearize and roll back its ballistic missile programs.
A second issue is tariffs. When Trump imposed tariffs on security grounds on steel and aluminum imports last month, he
did not exclude Japan
. After some discussions, he did, however, provide
exclusions
for South Korea, Australia, Canada and the EU, all US allies. The meeting is an opportunity to discuss this potential flashpoint and find a resolution.
Behind the scenes, there is even more at stake.
For Abe, the meeting is critical for promoting Japan's interests in North Korea. Because Abe has no scheduled summit with Kim Jong Un, there is a risk Japan may be left behind. Meeting Trump is an opportunity to directly advocate for keeping Japan's interests on the list of priorities. This includes ensuring that stopping the North's abduction of Japanese citizens remains a priority, along with denuclearization and abandonment of its ballistic missile program. At the bare minimum, it means getting Trump to agree that Japan needs to be present at any multinational negotiations.
Trump also has vital interests at stake. Trump needs Abe because Japan commands attention in the region. Through its diplomatic heft, economic clout, and soft power, Japan serves as a counterweight to China in an uncertain environment where many countries question America's commitment.
What is most surprising is that this is even an issue. The two have developed a close relationship. Not only was Abe the first foreign leader to
meet Trump
after his November 2016 victory, he was the first to meet Trump
at Mar-a-Lago
after becoming President. They also have frequent phone conversations and give each other gifts as
signs of their friendship
. The fact that Trump is treating Abe in a manner that creates an atmosphere in which the summit needs to go well is something few would have predicted even a few weeks ago.
It is hard to argue that the dynamics of the US-Japan relationship have not changed. After a year and half of relative stability, the allies are now forced to talk about difficult issues in which they have vested interests. As allies, and close friends, they could both benefit from reconfirming common goals and establishing a set of strategies to deal with the region's challenges.
Read more: https://www.cnn.com/2018/04/16/opinions/why-the-us-japan-summit-matters-hornung-opinion/index.html