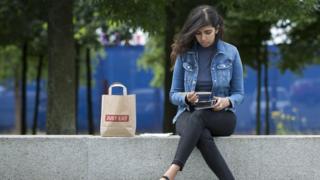 Food delivery service Just Eat has confirmed it is in talks to be taken over by Dutch company Takeaway.com.
A statement released by Just Eat said: "The possible combination may be implemented by way of an offer for Just Eat by Takeaway.com."
Based on current market value, Just Eat and Takeaway.com would have combined worth of roughly £9bn ($11bn).
Earlier in the year, Just Eat was put under pressure by a shareholder to merge with a rival.
Activist shareholder Cat Rock has been pressing for a merger with Takeaway.com, in which it also has a stake.
Bid deadline
Just Eat said in its statement on Saturday there was "no certainty" that any transaction would take place.
It added: "A further announcement will be made if and when appropriate."
Takeaway.com has until 1700 BST on 24 August to announce a firm intention to press on with the deal.
In March, Just Eat said a fifth of the adult population in the UK used its services, while its delivery business in Canada – SkipTheDishes – was growing rapidly after the introduction of a bilingual service.
Peter Duffy, the interim chief executive, said four million new customers joined the business last year.
Despite this, fund manager Cat Rock said it "believed that a merger with a well-run industry peer is a very attractive avenue for securing world-class leadership, delivery expertise, and a premium".
Profits growth
Just Eat was founded by a group of five Danish entrepreneurs in 2000 and launched a year later. It employs 3,600 staff globally,
As well as the Just Eat brand in Europe, it trades as Skip The Dishes in Canada, iFood in Mexico and Brazil, and Menulog in Australia and New Zealand.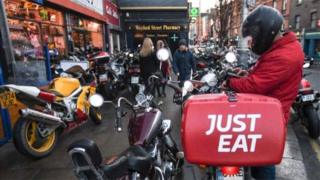 It is listed on the FTSE 100 stock exchange in London,
The firm saw its group revenue grow 43% in 2018 to £779.5m. Underlying earnings were up 6% to £173.9m in the year to 31 December.
Meanwhile pre-tax profits were £101.7m, compared with a £76m loss in 2017.
Delivery wars
Just Eat is considered by analysts to have a market leading position in the UK food courier business, particularly given its strength in smaller towns.
But it is involved in a home delivery battle with rivals Deliveroo and Uber Eats, with each continuing to grab market space from one another.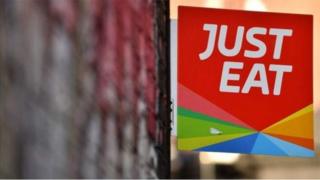 In May Amazon announced a £575m investment in rival Deliveroo, hitting Just Eat's share price.
Just Eat's half yearly financial results are due out on Wednesday, 31 July.
Its quarterly results, announced in April, saw a slowdown in UK growth, with orders rising by 7.4% to 31.9 million. But sales across the Just Eat group as a whole were up 21%, helped by good growth in Canada, Italy, Switzerland and Ireland.
Group revenues for the first quarter jumped 28% from a year earlier to £227.9m.
Read more: https://www.bbc.co.uk/news/business-49140524