Hope is fading for a feel-good ending at the U.S. box office.
After several months of flops like Warner Bros.' "King Arthur" and EuropaCorp's "Valerian," movie studios and theaters are beginning to acknowledge that their streak of record-setting ticket sales may be coming to an end. AMC Entertainment Holdings Inc., the world's biggest cinema chain, laid out a worse-than-projected outlook for the North American box office this week.
That announcement dragged down shares of theater stocks, wiping out $1.3 billion from the value of the top four cinema operators in North America since Aug. 1. Even with a new "Star Wars," a Marvel superhero movie and the sequel to "Blade Runner" on the docket for the holiday season, the box office is unlikely to make up for a "severe hit" in the third quarter, according to Bloomberg Intelligence. To date, receipts are down 2 percent in 2017, and AMC is projecting a 1.5 percent decline for the full year.
The concern is that the slump isn't just a run of bad luck. Cinema operators have managed for years to keep increasing sales by raising ticket prices amid stagnant attendance, but a sharp drop in filmgoing would make that harder to sustain. And the tried-and-true formula of churning out big-budget sequels and cinematic universes populated with superbeings seems to be wearing on filmgoers. Movies featuring once-reliable draws Jack Sparrow, the Transformers and the Mummy did poorly in the U.S.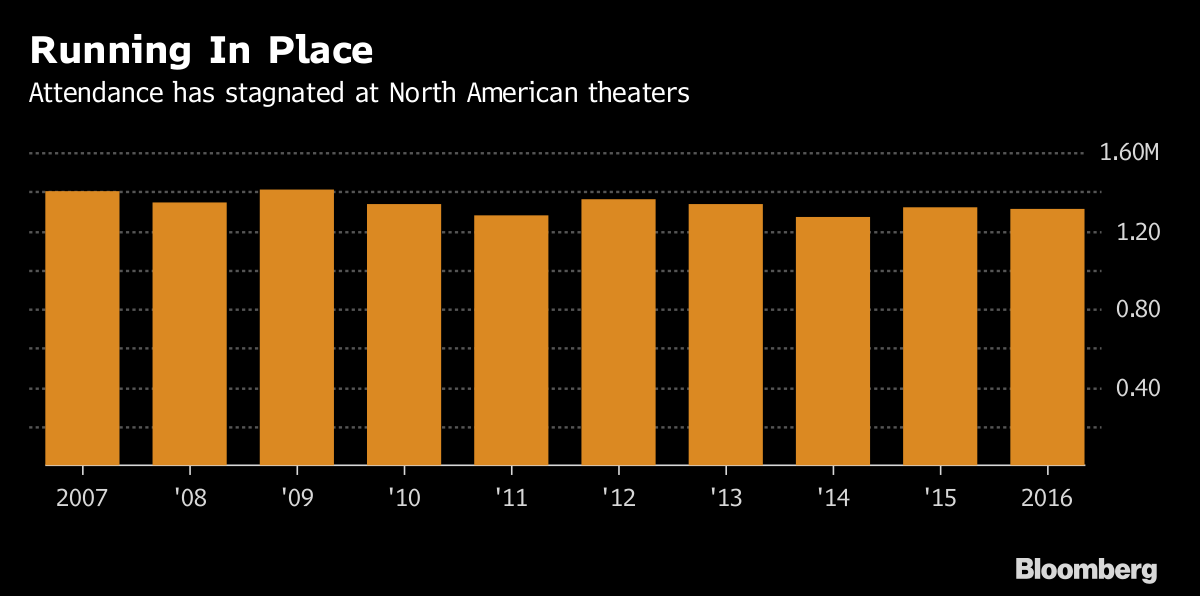 Meanwhile, competition is heating up. Netflix Inc. and other digital distributors are creating more original movies, and consumers have more demands on their attention than ever, from Snapchat to YouTube. Further exacerbating the trend, studios are expected to push for a new premium video-on-demand window this year.
It's possible that Hollywood could reverse the trend next year, when a new movie about Han Solo, an Avengers film, and sequels to "Deadpool" and "Jurassic World" are scheduled.
"This is very typical of the movie business," said Paul Sweeney, an analyst at Bloomberg Intelligence. "You could make the argument that the slate for next year looks really good, which should grow the market next year in North America. That part's a cyclical thing, and it's likely to come back."
And movie-theater operators Regal Entertainment Group, Cinemark Holdings Inc. and Imax Corp. aren't facing the same level of pressure as AMC, which is carrying almost $5 billion in debt after expanding its empire to Europe, with acquisitions in the U.K. and Sweden.
Controlled by Chinese billionaire Wang Jianlin's Dalian Wanda Group Co., AMC has become the poster child for China's incursion into Hollywood. Concern that Dalian Wanda's international investments may wane is adding to AMC's troubles. "With China cracking down on funding for AMC's majority shareholder, Dalian Wanda, the cinema chain faces murky prospects given its high debt level and appetite for global M&A," wrote Geetha Ranganathan, a Bloomberg Intelligence analyst.
As an expression of confidence in its future, the theater operator late Thursday announced its board approved as much as $100 million in repurchases of its Class A stock, or about 5 percent of its total equity market value, which includes Class B shares held by Wanda.
Chief Executive Officer Adam Aron said he also plans to buy shares personally over the next 60 days.
Click here for a BI analysis of summer movie profits.
AMC said Tuesday it will cut jobs and plans to write off its investment in National CineMedia LLC, resulting in a loss of as much as $178.5 million. The company will also pursue "strategic pricing" — possibly selectively charging more for hot tickets or offering discounts to fill seats — and cut back on investments in improvements to its theaters, such as reclining seats.
The revised outlook means AMC's indebtedness is likely to be higher by the end of the year, though probably not enough to lead to a downgrade, said Jason Cuomo, an analyst at Moody's Investors Service. Dialing back on investments will help the company weather the storm, he said.
"They have some levers they can pull and manage, and they're not going to stand still," Cuomo said.
Canada's Cineplex Inc. also reported poor second-quarter results as movie fans grow tired of franchises, so-called "sequel-itis." It too will cut spending and jobs, even as it considers price hikes to offset higher minimum wages in Canada. Regal's earnings missed estimates, while Imax's were in line with analysts' projections. Cinemark is scheduled to report second-quarter results on Friday.
The big shadow hanging over the industry is whether studios will push to shorten the time between theater and home release of their movies, from the standard three months to within weeks after theater attendance has dropped off. The concern is that such a premium video-on-demand offering would give consumers less incentive to go see a movie in theaters, knowing they could watch it at home within weeks.
The studios are negotiating with cinema operators over the matter, pushing for an agreement as soon as the end of this year. Reaching a deal may be tricky. Studios are restricted from coordinating among themselves because of antitrust rules — while exhibitors have said they will only agree to deals that boost their bottom line.
Meantime, the industry is counting on Walt Disney Co.'s "Thor: Ragnarok," opening Nov. 3, and "Star Wars: The Last Jedi," on Dec. 15, to make the picture brighter.
"Until you see box office turn, people have to assume the worst for everything and that is why see people stay relatively concerned on the space until you get to Q4," said Eric Wold, an analyst at B. Riley & Co. While he has a buy rating on the stock, he says in the past he may have been too positive. "You have got zero opportunity for positive news until maybe November of Q4 when the slate looks a little bit better."
Read more: http://www.bloomberg.com/news/articles/2017-08-03/after-1-3-billion-stock-collapse-hollywood-s-picture-blurs