The sell-off in global stocks that briefly looked to have ended mid-week has come back, tipping markets from the U.S. to Asia into declines exceeding 10 percent from their January highs . China, where retail investors dominate, got hit particularly hard Friday.
Equity traders have yet to get comfortable with a jump up in benchmark U.S. 10-year yields to their highest in four years, and worries over the unwinding of bets against volatility in stocks continue to cast a shadow over markets.
Japan's equity benchmarks were down about 3 percent Friday, while South Korea's fell almost 2 percent and Hong Kong's slid almost 4 percent. Onshore China gauges at one point exceeded 5 percent losses on the day. U.S. futures were higher, after fluctuating between gains and losses. Elsewhere, West Texas Intermediate oil fell toward $60 a barrel. China set the yuan lower Friday after it fell the most since 2015 yesterday.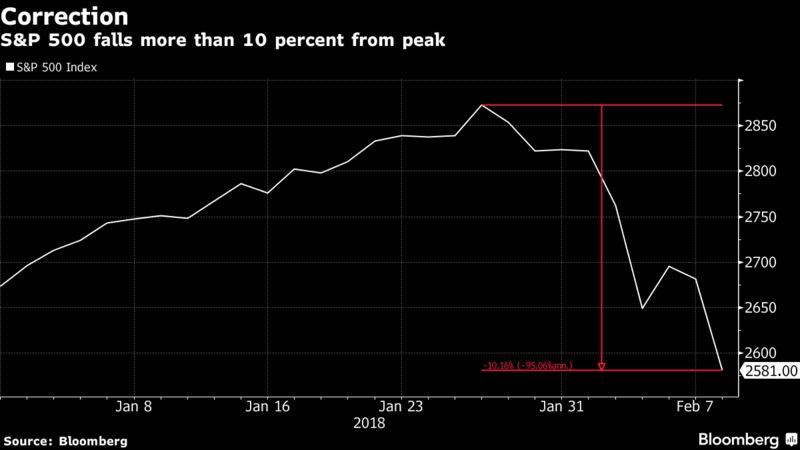 In stocks, the negative superlatives have piled up quickly: the S&P 500 has erased its gain for the year, closed at a two-month low and is on track for its worst week since 2011. The Dow plunged more than 1,000 points for the second time in four days. The MSCI Asia Pacific Index is set for the worst week since at least February 2016.
Pressure on U.S. stocks again came from the Treasury market, where another weak auction put gave bond bears ammunition, sending the 10-year yield as high as 2.88 percent. Equity investors took the signal to mean interest rates will push higher, denting earnings and consumer-spending power.
For a market that hadn't fallen 3 percent from any high in more than a year, the week's action was enough to rattle even the biggest equity bulls. Accustomed to buying the dip, that wisdom is now in question when more selling by speculators may be imminent. Over $5 trillion has been wiped from global stock markets since Jan. 26, according to S&P Dow Jones Indices.
"There's some big-money players that have really leveraged to the low rates forever, and they have to unwind those trades," said Doug Cote, chief market strategist at Voya Investment Management. "They could be in full panic mode right now."
As the equity selling intensified, haven assets grew attractive. Gold ticked higher, the yen held gains and even Treasuries pared the worst of their declines.
Volatility spread across assets. The Cboe Volatility Index was more than double its level a week ago. The VIX's bond-market cousin reached its highest since April. A measure of currency volatility spiked to levels last seen almost a year ago, with a plunge in the yuan and a rise in the pound adding to turbulence. European equities weren't spared, with the Euro Stoxx 50 volatility gauge spiking toward the highest since June 2016 — the month of the Brexit vote.
Terminal users can read more in our markets blog.
Here are some events scheduled for the remainder of this week:
The Bank of Russia is set to hold a rates decision Friday, with most economists forecasting a cut.
And these are the main moves in markets:
Stocks
The MSCI Asia Pacific Index fell 2.3 percent as of 12:10 p.m. Tokyo time.
Topix index fell 2.8 percent ahead of the lunch break.
Kospi index fell 1.9 percent.
Australia's S&P/ASX 200 Index fell 1.2 percent.
Futures on the S&P 500 Index were up 0.2 percent.
Currencies
The Bloomberg Dollar Spot Index is up 0.9 percent this week, for a second weekly advance.
The Japanese yen was down 0.2 percent Friday at 108.91 per dollar.
The euro was flat at $1.2256.
Bonds
The yield on 10-year Treasuries rose less than one basis point to 2.83 percent.
Japan's 10-year yield fell about one basis point to 0.071 percent.
Commodities
West Texas Intermediate crude fell 1 percent to $60.54 a barrel.
Gold was little changed at 1,318.42 an ounce.
LME copper fell 0.3 percent to $6,824.50 per metric ton.
Terminal users can read more on this week's market turmoil in these Bloomberg stories:
Read more: http://www.bloomberg.com/news/articles/2018-02-08/asian-stocks-set-to-follow-u-s-lower-yen-rises-markets-wrap