Wall Street analyst says chatter 'may be a plausible theory'

No comment from companies; billionaire helped rescue GE in '08
It started swirling through the markets early in the morning. One trader after another passed it on, irrespective of whether there's any truth to it: Warren Buffett, they said they had been told, was apparently interested in buying a stake in General Electric Co.
Hours later, there's still zero indication that the speculation is anything beyond just that, but the market reaction was real: Shares of the struggling industrial powerhouse rose more than any others in the S&P 500 Index, climbing 4.3 percent on a day when most of the market tumbled.
For beleaguered investors, it was, if nothing else, a welcome reprieve from what's been a brutal 15-month stretch of grim news — from tumbling demand for GE's gas turbines to a probe of the company's accounting by the U.S. Securities and Exchange Commission. That's made GE the worst performer on the Dow Jones Industrial Average since the end of 2016, wiping out almost $168 billion in shareholder value in the process through Monday.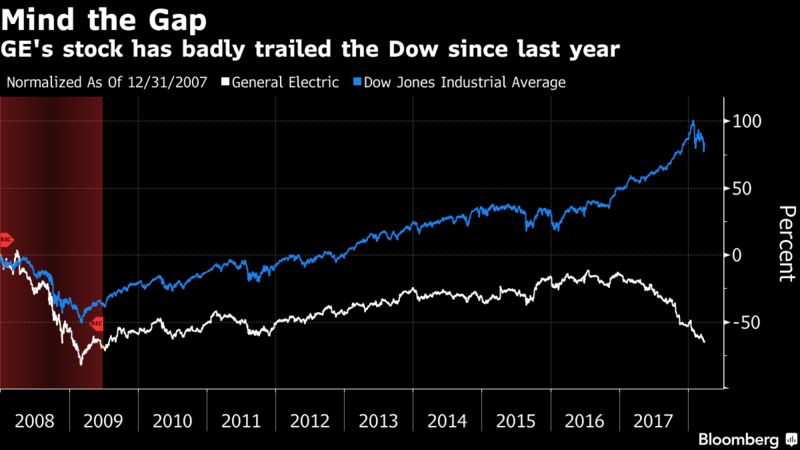 Nicholas Heymann, an analyst at William Blair & Co., said investors reacted to the speculation today in part because it seems like "a plausible theory, given Buffett had recently spoken to the press that he might be interested in GE at the right price."
GE declined to comment. Buffett's Berkshire Hathaway Inc. didn't immediately respond to a request for comment. Buffett, who rode to GE's rescue during the 2008 financial crisis, said earlier this year that he would consider an investment in the company or its assets if the price was right.
Gadfly: GE investors can't count on Buffett for a quick fix
The shares climbed 4.3 percent to $13.44 at the close in New York, the biggest advance in two months. At one point in the trading session, the intraday gain was the biggest since October 2015. On Monday, the shares had fallen to the lowest since July 2009.
During the crisis, Buffett helped inject capital into GE by buying $3 billion in preferred shares, and received a common-stock holding once some warrants expired years later. Berkshire has mostly sold that stock, Buffett said in February.
Read more: http://www.bloomberg.com/news/articles/2018-03-27/ge-jumps-most-in-two-years-on-speculation-of-buffett-investment