Austrians profiting from the fastest economic growth in six years look likely to ditch their current coalition in favor of a new government backed by anti-immigration nationalists and headed by the world's youngest leader.
Polls suggest that Austria's 31-year-old Foreign Minister Sebastian Kurz will lead his conservative People's Party to victory in Sunday's election. That could set the stage for a coalition with Heinz-Christian Strache's populist Freedom Party, unwinding a decade of Social Democratic-led administrations that revived the economy but struggled with issues over immigration and welfare.
"People are worried about the future and that is the currency that matters in this election," said Christoph Hofinger, head of the SORA polling institute in Vienna. "The debate is revolving around the issue of fairness, and a lot is also linked to migration."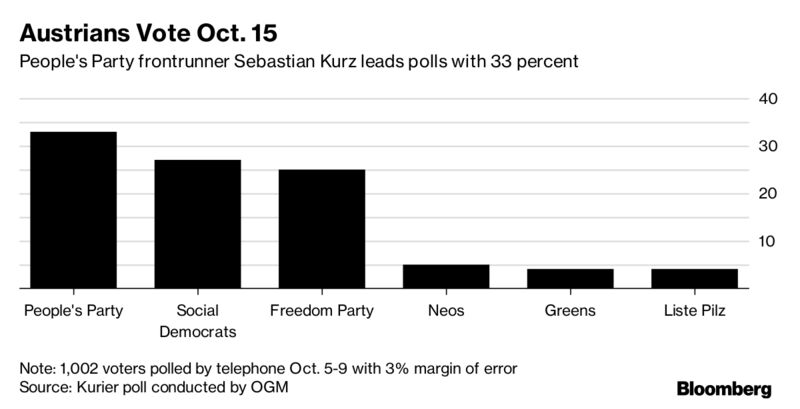 After a surge of support for populist candidates in elections this year in the Netherlands, France and Germany, Austria looks like it will go one further and elect an anti-immigration alliance.
Chancellor Christian Kern, 51, a former business executive plucked from the national railroad by the Social Democrats in May 2016, has been dogged by sloppy campaign management. Despite overseeing faster growth in the export-oriented economy, Kern has struggled to connect with voters.
His No. 1 goal is achieving full employment, since "modernizing the country with investment in education, security, health care and pensions" depends on it, Kern said late Thursday in the campaign's final debate.
While those themes have resonated in previous campaigns, they're not what Austrians are most concerned about now, according to Hofinger. Voters are instead gravitating toward promises by both the People's Party and Freedom to limit the number of immigrants Austria receives and force newcomers to adapt local customs more quickly, he said.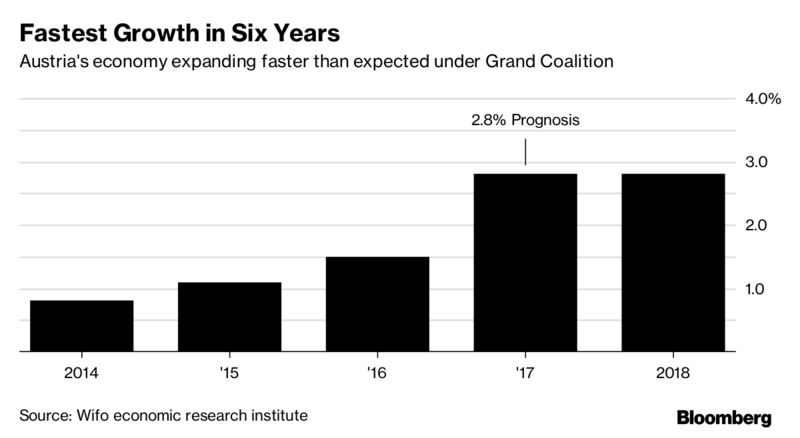 The swell of anxiety over immigration to Austria began building 2015, when almost 70,000 mostly-Muslim refugees sought asylum from war-torn countries such as Syria, Afghanistan and Iraq. Schools and hospitals in the nation of 8.7 million struggled to accommodate the newcomers, and disagreements over whether it was fair to give immigrants generous welfare support dominate the media.
Read Why Austria May Elect the World's Youngest Leader: QuickTake Q&A
Compared with 10 years ago, more Austrians say they feel like they're not being heard and are in search of law-and-order leadership, a SORA institute study showed. More than two-fifths of voters declared their desire for a "strongman" leader, according to the research, periodically commissioned by the federal government to gauge public attitudes and consciousness about the country's Nazi history.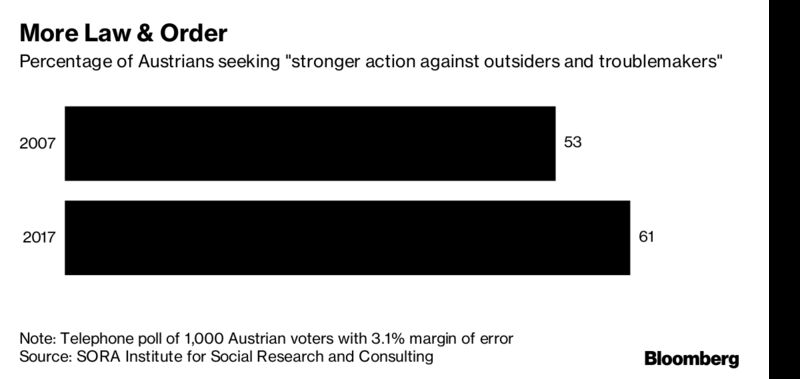 Step forward Kurz, the foreign minister who's distanced himself from the People's Party's leadership and forged similar views with Freedom's Strache on immigration. Both men want to restrict immigrant access to Austria's social-security system and impose tighter policing on the country's borders. The Freedom Party came within 30,000 votes of winning the presidency, a mostly ceremonial post, in a run-off vote last year.
"Austria deserves someone who is ready to take on real responsibility for the population," Strache said in a parliamentary speech this week, in which he chided Kern for letting thousands of refugees enter Austria, transported on the national railroad he ran before becoming chancellor.
Read more: http://www.bloomberg.com/news/articles/2017-10-14/austrians-lean-toward-nationalist-government-led-by-a-millennial