Asia Stocks Fall After U.S. Tech Slump; Yen Drops: Markets Wrap
By
Samsung, Tencent lead declines in Asia; S&P 500 fell 1.7%

China confirms Kim visit to Beijing, willing to talk with U.S.
Equities in Asia declined after a sell-off in technology shares spooked investors assessing threats to earnings growth for the industry that propelled last year's rally. The yen fell and benchmark 10-year U.S. yields consolidated below 2.8 percent.
Stocks retreated across the region with the biggest losses in Japan and South Korea. Samsung Electronics Co. and Tencent Holdings Ltd. were the biggest decliners on the MSCI Asia Pacific Index. American tech shares suffered their worst drop since the broad market correction in early February as investors were rattled by news from Nvidia Corp. and mounting concerns surrounding Facebook Inc. The British pound jumped following a report on plans to avoid a post-Brexit hard border with Ireland. The yen declined amid signs of an improving geopolitical situation with North Korea.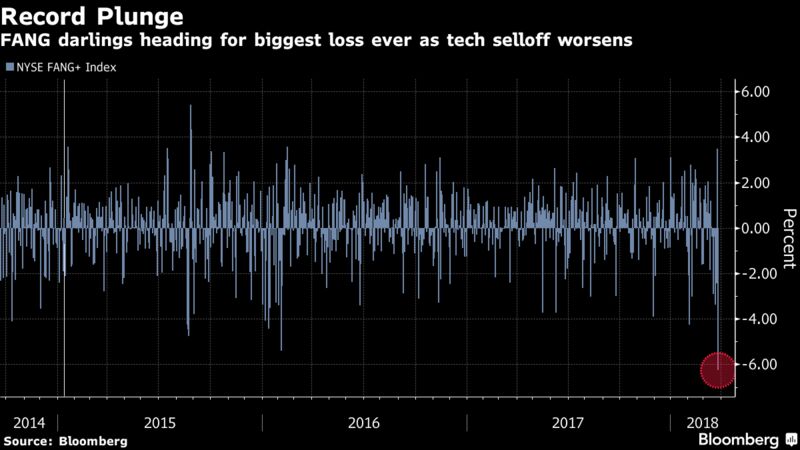 Concerns over trade tensions, sparked by President Donald Trump's protectionist moves, have stoked volatility this month, and continued to whipsaw stock indexes in recent days. The Trump administration is mulling a crackdown on Chinese investments in technologies the U.S. considers sensitive, the latest step in Trump's plan to punish China for violations of intellectual-property rights.
Also providing a backdrop of worry is a surge in short-term borrowing costs as the Federal Reserve rolls back stimulus and the U.S. Treasury ramps up bill issuance. The geopolitical front at least has offered some solace, with China confirming Wednesday that North Korean leader Kim Jong Un met with President Xi Jinping on a surprise visit to Beijing — the latest in a series of diplomatic meetings pointing towards a reduction in tensions.
Meantime, Facebook Chief Executive Officer Mark Zuckerberg is expected to testify before the U.S. House Energy and Commerce Committee as lawmakers grow increasingly concerned about privacy protection. Another tech woe has been questions about the near-term prospects for self-driving vehicles in wake of a death in Arizona. Nvidia Corp., the graphics-chip maker, temporarily suspended its self-driving vehicle testing.
Elsewhere, oil extended a drop for a third day after declining on a report that American crude storage surged.
Here's a list of of the main events coming up this week:
Thailand's rate decision is due Wednesday.
The big four euro-area economies are due to release March CPI readings this week.
U.S. personal income and spending data for February are due to be released on Thursday.
The Treasury will probably auction about $294 billion of bills and notes this week, its largest slate of supply ever.
Terminal users can read more in our markets live blog.
And these are the main moves in markets:
Stocks
Japan's Topix index slid 1.7 percent as of 10:39 a.m. Tokyo time.
Australia's S&P/ASX 200 Index lost 0.6 percent.
South Korea's Kospi index fell 1.4 percent.
Hong Kong's Hang Seng Index lost 0.9 percent. The Shanghai Composite Index was down 0.8 percent.
Futures on the S&P 500 Index fluctuated.
The NYSE FANG+ index, tracking the FANG block and its megacap brethren, tumbled 5.6 percent in the biggest rout in data going back to September 2014.
The MSCI Asia Pacific Index fell 1.1 percent.
Currencies
The Bloomberg Dollar Spot Index fell less than 0.1 percent.
The pound gained 0.1 percent to $1.4175.
The euro was at $1.2413, up 0.1 percent.
The yen fell 0.2 percent to 105.51 per dollar.
Bonds
The yield on 10-year Treasuries was steady at 2.77 percent after falling about eight basis points on Tuesday.
Australia's 10-year yield dipped about six basis points to 2.59 percent.
Commodities
West Texas Intermediate crude slipped 0.6 percent to $64.86 a barrel.
Gold was at $1,346.68 an ounce after dropping 0.6 percent.
Read more: http://www.bloomberg.com/news/articles/2018-03-27/asia-stocks-tip-losses-after-u-s-tech-slides-markets-wrap